Installation & customization services:

Other items: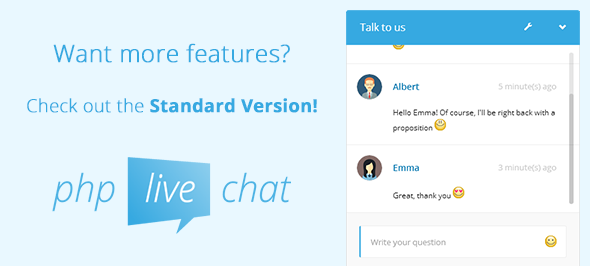 Live Support Chat Lite. PHP & MySQL based. For any website. No monthly fees.
Works with any website – static, PHP, WordPress, Joomla, Drupal, OpenCart (any website with PHP & MySQL back-end)!
Needs just PHP 5 and MySQL
Installation Wizard
SSL Support
Email Form Fallback
Mobile Support (Responsive Widget)
Colors Settings
History
Full Screen Mode
Unliminted Operators
Clean and modern look
Easy Widget Translation
Unlimited usage — no monthly fees
Requirements:
PHP 5 (with PDO support),
MySQL 5.
Updates:
03 July 2015:
added window title blinking when operators get new messages,
added contact form email settings in installation wizard,
fix for usage with and without "www." subdomain issue.
26 June 2015:
fix for Firefox incompatibility error in widget's code.